Pentre Ifan Burial Chamber - viewed from the portal end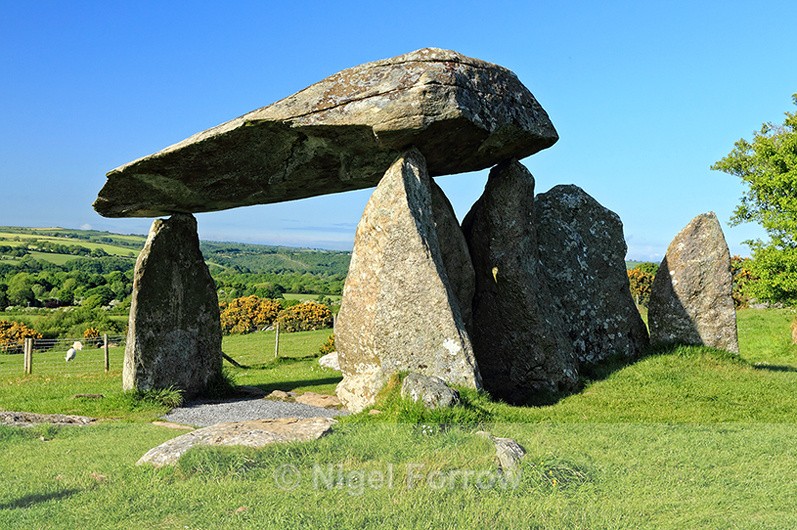 Pentre Ifan
, Pembrokeshire, Wales (June 2010)
Pentre Ifan is the best known and, because of its height, the most impressive megalithic monument in Wales. It is the remains of a chambered tomb for the communal burial of the dead which would have been used for some time before being finally sealed. The tomb was erected in the Neolithic Age, perhaps as early as 3,500 B.C.
The burial chamber itself was once partially covered by a great cairn, extending well to the rear, but the stones have long since been removed so it now lacks its original covering.
The tomb is of Portal Dolmen type, with the front of the chamber composed of three large upright set in an 'H' formation - though here it is placed, unusually, at the centre of a curving facade of slabs. The enormous capstone, nearly 17ft (5.1m) long and probably weighing over 16 tons, is supported on just three stones.
Excavations in 1936-7 and 1958-9 showed that the burial chamber lay within a large oval pit dug into the sloping ground; its sides had originally been constructed of dry-stone walling with a few larger slabs. The forecourt area at the front appeared to have been filled with carefully packed stones, which must have caused difficulties each time there was a fresh burial. Finds were meagre, but included Neolithic pottery and some flint tools. From surviving traces, the cairn was estimated to have been about 120ft (36m) long.
(Text taken from an information plaque at the site)