Eldey, the final refuge of the Great Auk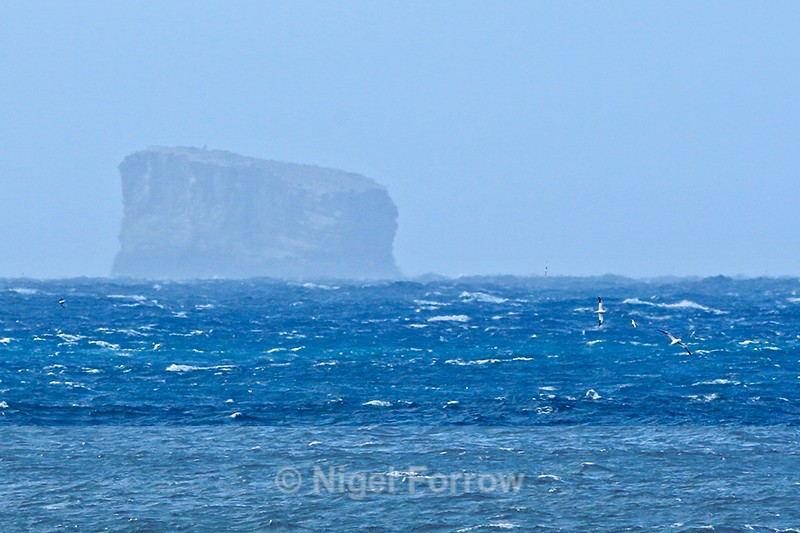 Reykjanestá, Reykjanes peninsula, Iceland (March 2014)
Eldey
(Fire Island) is a basalt rock about 75 m high with sheer cliffs. It lies around 15 km south west of the Reykjanestá on the Reykjanes peninsula. This photo of the island was taken from the shore near the
Reykjanesviti lighthouse
. Eldey is home to one of the largest gannet colonies (click
here
for Eldey webcam) in the world and a protected site where landing is forbidden. Two flying gannets are just visible in the right of the image.
Eldey
is infamous as the last known breeding ground of the Great Auk. This flightless bird was hunted mercilessly for its meat, eggs, feathers and oil. Once relatively common across the North Atlantic, numbers had dwindled to dangerous levels by the end of the 18th century. Paradoxically, its increasing rarity in the early 19th century encouraged specimen collectors to hunt down the last remaining Great Auks for museums and private collections.
In Iceland, Great Auks were still relatively numerous in their breeding colonies on the Reykjanes peninsula. In particular, they favoured Geirfuglaskér (Great Auk Skerry or Rock) which was a small island off the peninsula until a volcanic eruption in 1830 caused it to disappear beneath the sea. Also, many of the Auks had been slaughtered in 1808 by British sailors visiting the island. The remaining Great Auks sought refuge on Eldey where around 50 birds were present in 1835. However, on 3 June 1844, four Icelandic fishermen (Sigurðr Islefsson, Jón Brandsson, Ketil Ketilsson and Vilhjalmar Hakonarsson) set sail for Eldey to secure a Great Auk for a specimen collector. The last nesting pair of Auks was killed and their egg smashed.
There is a memorial statue of a Great Auk close to the spot where this photo was taken. A number of stuffed specimens, skeletons and eggs of the Great Auk survive to this day in various museums around the world. The Natural History Museum in London holds one such stuffed specimen which is currently displayed in the
Cadogan Gallery
as part of its Treasures exhibition. This permanent exhibition holds 22 objects and specimens which are considered to be among the most important owned by the museum. The '22' include a skeleton of a Dodo, a skull of a Barbary Lion and a first edition of Darwin's On the Origin of the Species. The Great Auk specimen in the Natural History Museum is thought to have been collected in Iceland in 1837 then acquired by
Walter Rothschild
who bequeathed his huge collection to the museum on his death in 1937.
Great Auk links:
Great Auk / Wikipedia
Great Auk / Natural History Museum
Great Auk Pinguinus impennis / BirdLife International
Tv(Shutter Speed) 1/800
Av(Aperture Value) 7.1
Exposure Compensation 0
ISO Speed 200
| | |
| --- | --- |
| | |